Okay, way too cute. A farm yard diaper cake idea with incredible attention to detail. Charming little farm animals adorn the diaper cake topped with a little barn.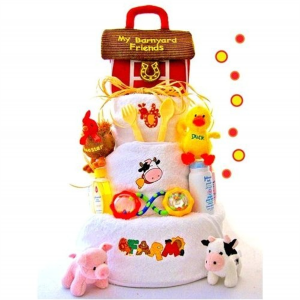 I have often admired the creativity of others. I am a writer by trade, not very artsy myself, so when I see a farm yard diaper cake with this much thought around it, I have to smile.
The bibs and the little, stuffed animals are all coordinated to the theme but what stood out the most was the straw used as ribbon.
The little animal attachments and farm yard barn make great little baby gifts. There are 35 diapers making up this diaper cake and a baby blanket is in there somewhere, too!

No laughing, but when my oldest son was an infant, he had a thing about crying in the car. The only way I could get him to stop was if I moo'd like a cow the whole way. Don't ask me how I discovered that was the trick, I no longer remember. I only know this little diaper cake idea would have been perfect for him.
Click on image to visit the online store offering this diaper cake.