Modern diaper cake ideas come in trendy color combinations and art deco accessories that really stand out. They're completely fabulous for the modern mother-to-be.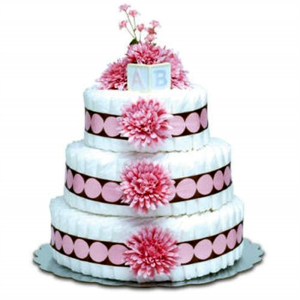 This modern diaper cake in large contains 100 Size 1 diapers and is wrapped beautifully in large, brown ribbon with pink dots.
Large, pink mums adorn each layer and several together are used as the diaper cake topper along with a small, lettered baby block. This cake actually comes in a variety of flowers and color patterns (blue, yellow, and green) and in a smaller, two-tier size, as well. The ribbon is very art deco and the diapers are layered for a polished finish.