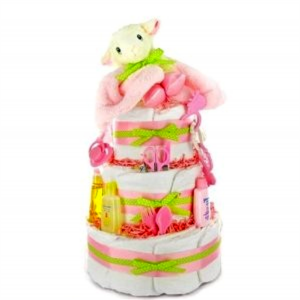 Sweet little lambs make adorable diaper cake ideas! This diaper cake is a three tier cake made with 50 disposable diapers, a security blanket, plush toy, fork and spoon set, and a number of baby bath items. (See the complete list here: Lamb Diaper Cake for Girls.)
A little, stuffed lamb sits on top of the diaper cake and hugging the sides is a baby lamb blanket. The diaper cake is decorated with ribbon and bows which hold the accessories in place.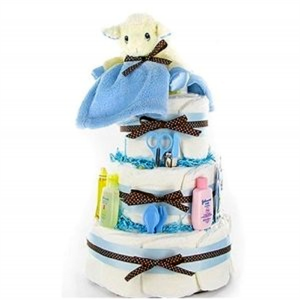 You can also get this lamb diaper cake for boys with a cream colored lamb trimmed in blue, blue ribbon, and blue baby bath accessories.
If these are going to be a diaper cake centerpiece for a baby shower, some ideas for decorations might include soft, pale yellow balloons or gold and white balloons, and soft, stuffed animals.
I think the best part about diaper cakes are the ideas for additional accessories that are attached as baby gifts.  While the diapers will someday be pulled apart from the diaper cake, the attached baby gifts, rattles, and blankets are the treasures that create memories forever. 
Click on image to visit the online store offering this diaper cake.